Posted on:

24 July 2018

By:

shannonwatch
On June 28th we were sent a photograph of three US soldiers, in uniform, outside the Topaz/Re-Store store in Shannon. We published the photograph on our Facebook page, and it prompted quite a reaction from the public.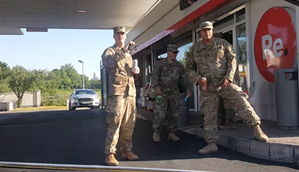 The Defence Act 1954 prohibits the wearing of a foreign military uniform in the State without ministerial permission. Permission was granted in 2003 by then Minister for Foreign Affairs Brian Cowen to allow US military personnel to wear their uniforms in the transit areas of Irish airports, including Shannon Airport, but not outside the airport. We therefore wanted to know if these soldiers had been granted permission by the Minister for Defence, or if they were in fact in breach of the Defence Act.
On July 5th Clare Daly TD asked the Tánaiste and Minister for Foreign Affairs and Trade if the soldiers had been authorised to wear military combat uniforms where they had been photographed. She also asked him to outline his plans to address the issue of foreign military personnel wearing uniforms on streets, if they had not been granted permission.