More Warplanes at Shannon
Posted on:

24 May 2021

By:

shannonwatch
Body:
We're back in business, photographing warplanes at Shannon Airport!
The most notable or notorious one today was this US Air Force C32B, registration 00-9001. It is one of two such planes operated by the 486th Flight Test Squadron out of Eglin Air Base in Florida and also  Joint Base McGuire in New Jersey. It was using call sign KAPPA77, and had recently been in Oslo and Athens. It also passed thorough Shannon around midnight on 20th/21st May.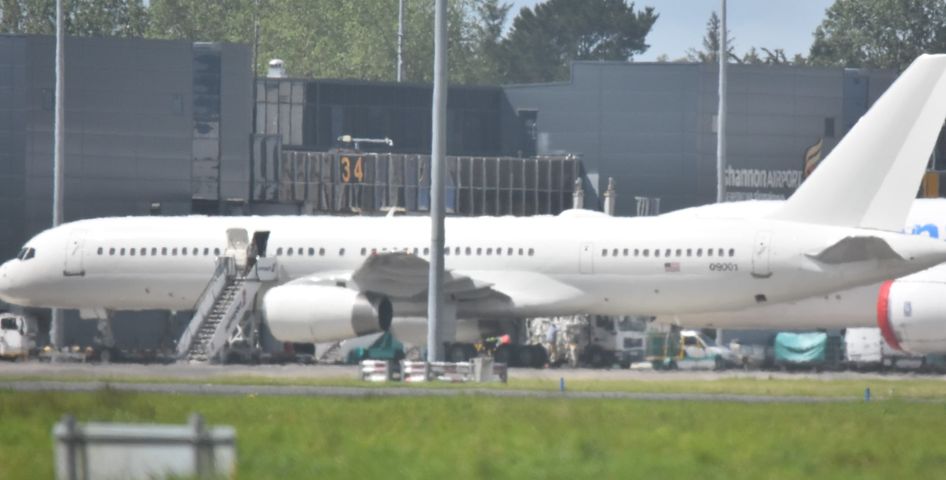 After leaving Shannon it returned to McGuire in New Jersey.
One of our members phoned Shannon Garda Station and requested that they search and investigate the aircraft. As far as we are aware that did not happen
Wikipedia has this on the 486th Flight Test Squadron:
The 486th Flight Test Squadron is a secretive unit, with a somewhat misleading designation, assigned to Eglin Air Force Base, Florida, and which is associated with United States Department of State Foreign Emergency Support Team activities. The squadron motto is "Non semper ea sunt quae videntur" which translates as "Not always what they seem". It was apparently assigned to the 227th Special Operations Flight, later redesignated the 150th Special Operations Squadron, 108th Wing, New Jersey Air National Guard, McGuire Air Force Base, New Jersey, but is currently assigned to the 96th Test Wing at Eglin, and operates a pair of Boeing C-32B or Boeing 757-23A aircraft, on stand-by alert for special operations and intelligence missions world-wide. Official documents make it clear that operations fall under the aegis of Air Force Special Operations Command.
Also at Shannon today was Omni Air US troop carrier N351AX making its return Journey to Baltimore USA having visted several military bases in the Middle East including Al Udeid and Kuwait. It was also in Sofia in Bulgaria.