Another Electronic Attack Aircraft at Shannon
Posted on:

3 June 2021

By:

shannonwatch
Body:
Today we photographed another US Air Force Hercules EC-130H 'Compass Call' at Shannon. There was one there two weeks ago on May 20th (see our report here), it had call sign AXIS12. Today's was AXIS11. It arrived at 10:56 and left again at 13:34. The aircraft registration was 73-1584.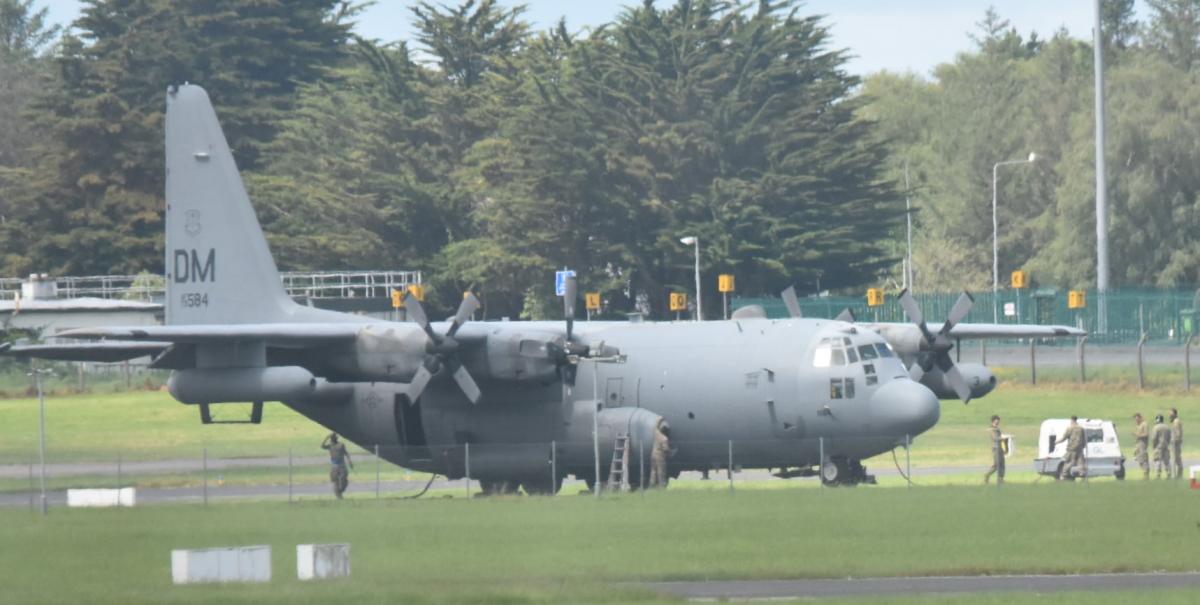 As we've pointed out before, the EC-130H 'Compass Call's are electronic attack aircraft that are heavily modified to disrupt enemy command and control communications, perform offensive counterinformation operations, and carry out other kinds of electronic attack. They can suppress enemy air defenses while jamming communications, radar, and command-and-control targets. 
The EC-130H's can and are deployed worldwide at short notice to support US and allied tactical air, surface, and special operations forces. And today we had one at Shannon.
AXIS11 was recently at Al Dhafra Air Base in the United Arab Emirates, then at Ali Al Salem Air Base in Kuwait. It came to Shannon via Chania in Creete and Ramstein Air Base in Germany.
After Shannon it landed at Lages Portuguese Air Base in the Azores.
Our photograph shows seven US soldiers on the ground near the aircraft. It usually has a crew of four who help fly and navigate the aircraft, and a team of nine other specialist soldiers who operate and employ the electonic warfare mission equipment This mission crew includes the mission crew commander (electronic warfare officer), weapon system officer (electronic warfare officer), mission crew supervisor (an experienced cryptologic linguist), four analysis operators (linguists), one acquisition operator and an airborne maintenance technician. Seven soldiers on the ground beside the aircraft suggests that there was more than just the flight crew on board when it landed at Shannon.
The home base of this partiular aircraft is Davis-Monthan AFB Arizona (DM on the Tail) but it seems to have spent most of the past 12 months in the Persian Gulf.
Again we ask: how can our government pretend that these aircraft are not involved in military operations or exercises.