Posted on:

26 January 2020

By:

shannonwatch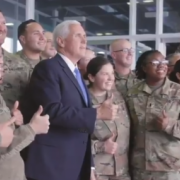 Yesterday US vice president Mike Pence met with US troop during a refuelling stop at Shannon Airport. As thejournal.ie reported, Pence disembarked Air Force Two to meet the soldiers who were on their way to Iraq, while they were also refuelling at Shannon. 
"I didn't want to miss the opportunity to get off Air Force Two and tell you how grateful we are to each and every one of you and your families that are going to keep the home fires burning during this deployment." said Pence.
This is the second time in six months that Pence has deliberately abused Irish sovereignty by using Shannon Airport to greet US troops. He must know that the troops are also breaching Irish neutrality by transiting through Ireland on their way to wage wars of aggression in Iraq.