Harassing Peace Activists while Welcoming the US Air Force
Posted on:

19 May 2019

By:

shannonwatch
Body: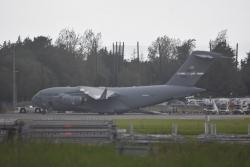 On the evening of Thursday, May 30th, as a Shannonwatch member drove toward Shannon Airport he was overtaken by a Garda patrol car that then pulled off the road near Bunratty and proceeded to follow him all the way to Shannon. As he drove into the Shannon Industrial Estate the Shannonwatch peace activist saw a large US Air Force transport aircraft at the airport, so he pulled in to take a photograph of it. He got out of his car and was getting his camera when the Garda car that had followed him stopped behind him. A Garda got out and asked for his drivers licence which the Shannonwatch member produced. He asked the Garda if it was an authorised road traffic checkpoint, and if so who had authorised it. The Garda simply said he was authorised by the Constitution to demand the driving licence! 
The Shannonwatch member then pointed out the US Air Force C17 military aircraft and requested that the Gardai search and investigate it. The Garda responded twice that this was way beyond his level of pay. The Shannonwatch member then asked the Garda to contact his superiors and take steps to have the aircraft searched and investigated. He gave no indication that he intended to comply with the request.
This level of harassment is not unusual and is intended to dissuade peace activists from defending human rights and the rule of law at Shannon Airport. But the fact that we are used to it does not make it any more pleasant.
Finally, we did get a photograph of the military transporter. Its a C-17A Globemaster III, operated by the US Air Force 21st AS/60th AMW based at Travis Air Force Base, CA. Its registration is 66156.