US Marine Corps KC-130J 16-9228 at Shannon
Posted on:

14 January 2020

By:

shannonwatch
Body:
Tonight at 7.15 pm a United States Marine Corps KC-130J 16-9228 landed at Shannon Airport. It was most likely coming from a Norwegian air base called Bardufoss where it was probably participating in a NATO exercise.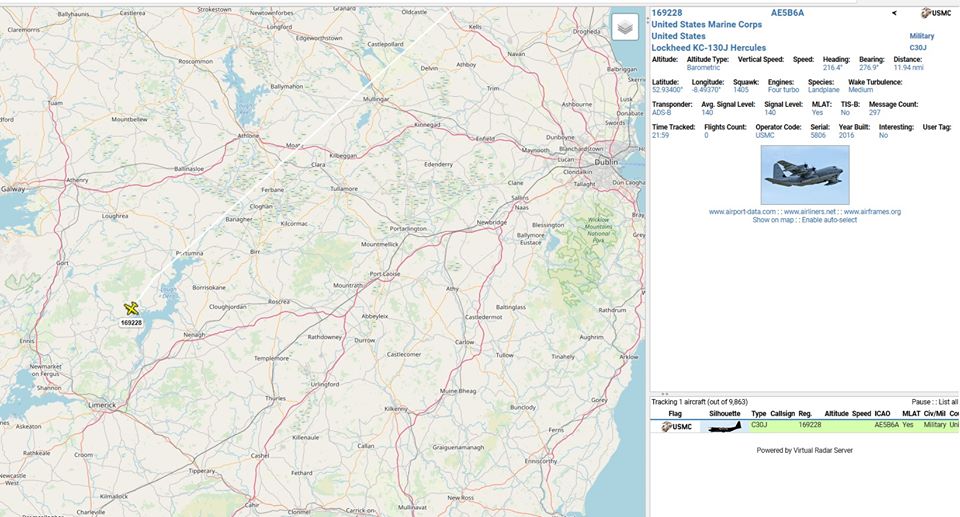 The plane is operated by the Marine Aerial Refueler Transport Squadron 234 (VMGR-234) known as the "Rangers". This is a reserve Marine Corps KC-130J squadron which is part of Marine Aircraft Group 41 (MAG-41), 4th Marine Aircraft Wing (4th MAW). It provides fixed-wing and rotary-wing aerial refueling capabilities to support Marine Forces Reserve air operations as well as assault air transport of personnel, equipment, and supplies. The squadron is stationed at Naval Air Station Joint Reserve Base Fort Worth, Texas.
This warplane was also at Shannon last Sunday, before it flew on to Norway.
Photo taken at Shannon on Sunday last (Jan 12th).