US Vice President Abuses Irish Sovereignty Again at Shannon
Posted on:

26 January 2020

By:

shannonwatch
Body: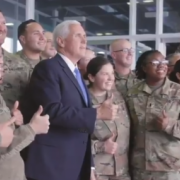 Yesterday US vice president Mike Pence met with US troop during a refuelling stop at Shannon Airport. As thejournal.ie reported, Pence disembarked Air Force Two to meet the soldiers who were on their way to Iraq, while they were also refuelling at Shannon. 
"I didn't want to miss the opportunity to get off Air Force Two and tell you how grateful we are to each and every one of you and your families that are going to keep the home fires burning during this deployment." said Pence.
This is the second time in six months that Pence has deliberately abused Irish sovereignty by using Shannon Airport to greet US troops. He must know that the troops are also breaching Irish neutrality by transiting through Ireland on their way to wage wars of aggression in Iraq. 
The soldiers Pence met were on board Omni Air N351AX. The plane subsequently flew on and delivered its soldiers to Kuwait, from where they were probably deployed to Iraq. It then returned to Shannon today, Sunday, arriving about 09.38 am. After refuelling it took off again for Fort Worth Texas.
Omni Air N342AX also arrived at Shannon on Saturday night from Norfolk naval station. After refuelling it took off for Kuwait at about 1.55am this morning, 
We also tracked Omni Air N819AX on its way from Pope Air Base, North Carolina to Shannon today.
That means up to 1,000 armed US troops may have passed through Shannon Airport over this 24 hours or so, as these planes usually carry troops on both journeys to and from the Middle East.
Instead of pulling US troops out of Iraq, it looks like the US may be reinforcing its forces there.