Omni Air Troop Carrier Crash Landing at Shannon
Posted on:

15 March 2020

By:

shannonwatch
Body:

An incident at Shannon Airport a week ago involving damage to  Omni Air plane number N477AX was in fact quite serious.
The Aviation Herald reported the following:
An Omni Air Boeing 767-300, registration N477AX performing flight OY-346 from Bangor,ME (USA) to Shannon (Ireland), landed on Shannon's runway 24 at 19:56L (19:56Z) but bounced and touched down hard a second time, tower had reported winds from 270 degrees at 20 knots maximum 35 knots and advised of turbulence at the touch down zone. The aircraft rolled out without further incident and taxied to the apron. While taxiing to the apron, tower inquired whether they had any turbulence over the touchdown zone, which the crew affirmed. There were no injuries, the aircraft sustained substantial damage however.
The aircraft had a crew of 11 plus 170 armed US soldiers on board. On the previous day, Sat 7 March it had been at Misawa air base in Japan and Andersen air base in Guam. 
Looking at the photos, the damage to the aircraft looks very extensive. If it were a car it would be considered a write off.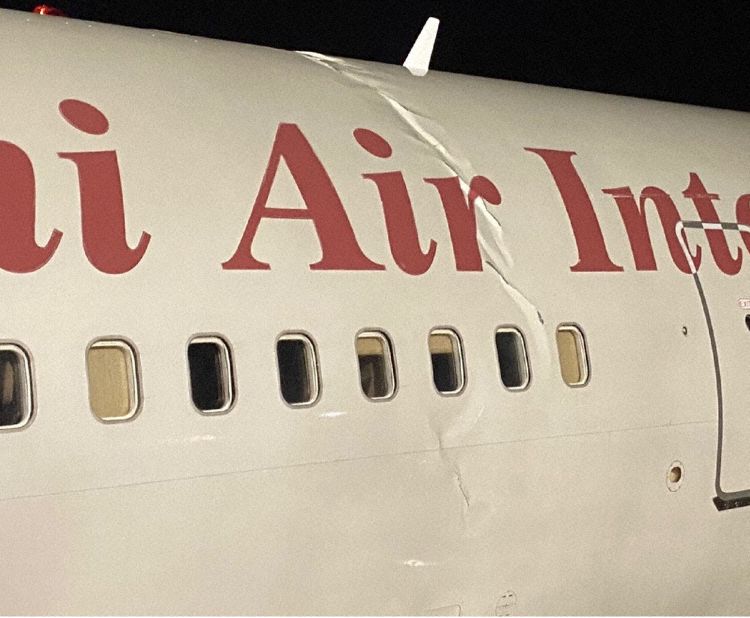 This is by no means the first such incident involving US military aircraft at Shannon or aircraft on contract to the US military. Last August another Omni Air aircraft, N378AX, had a fire on its undercarriage while trying to take off that required fire brigade assistance and an emergency evacuation. This too was reported in the Aviation Herald.