Warplanes at Shannon, July 23rd
Posted on:

24 July 2018

By:

shannonwatch
Body:
On July 23rd we recorded and photographed no fewer than three US warplanes at Shannon Airport. The most suspicious one was a C146A Wolfhound special operations aircraft. These are the type of missions it is used for by the US Air Force Special Operations Command, according to the American Special Ops website: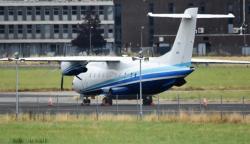 "Within United States Air Force Special Operations Command (AFSOC), the aircraft is used in the non-standard aviation role i.e. covert insertion, extraction and resupply of special operations forces. AFSOC operate a fleet of light and medium intra-theater aircraft that include the U-28A, C-145A Skytruck and C-146A Wolfhound. In the military role, the C-146A has been configured with special NVG-compatible lighting in the flight deck and cabin. While not publicly disclosed, the C-146A is likely to include a secure communications fitment as well as the capability to fit a defensive aids system (DAS).
The Wolfhound is operated by a number of AFSOC Special Operations Squadrons (SOS), including the 524th SOS and as of fall 2015, the 49th SOS."
So what was it doing at Shannon Airport and where was it going to?
There were also two Omni Air International planes on contract to the US military at Shannon on July 23rd, most likely carrying US troops. Both were parked up at the Airport terminal building, with Aer Lingus and other civilian planes sandwiched in between them.
Of particular interest was the aircraft reg number N207AX which landed at 11.12 am. Its itinerary over the past weekend was very similar to its movements last week. It was in Guantanamo Bay US naval base on Saturday July 21st, then flew to Fort Worth AFB in Texas, and then on to Riverside March Air Reserve base in California on Sunday July 22nd. From there it flew to Shannon Airport. It is most likely on its way to US war zones in the Middle East.
This Omni Air plane was also at Shannon a few days earlier, on July 19th. On 16th July it flew from Andrews Air Force Base in the USA to Guantanamo Bay US Naval Base in Cuba (last stop for Guantanamo prison!). It then flew back from Guantanamo to Dallas in Texas. On 18th July it flew from Dallas to Lviv in Ukraine, and on 19th July flew from Lviv in Ukraine to Shannon, landing there at 10.09am. It was refueled at Shannon and took off from Shannon at 13.06 pm heading for Biggs Air Force Base in the USA.
These are all military operations. And yet our government has the audacity to claim that planes landing at Shannon are not involved in military operations or exercises.
The third military aircraft photographed at Shannon on 23rd was another Omni Air number N351AX, again likely to be carrying US troops. It arrived from Norfolk US Naval Station in Virginia and landed at Shannon at 9.06am on 23rd.
Both of these Omni Air planes N207AX and N351AX subsequently flew on from Shannon Airport to Kuwait.