US Veterans for Peace Protest against US Military Base at Shannon Airport
Posted on:

12 March 2019

By:

shannonwatch
Body: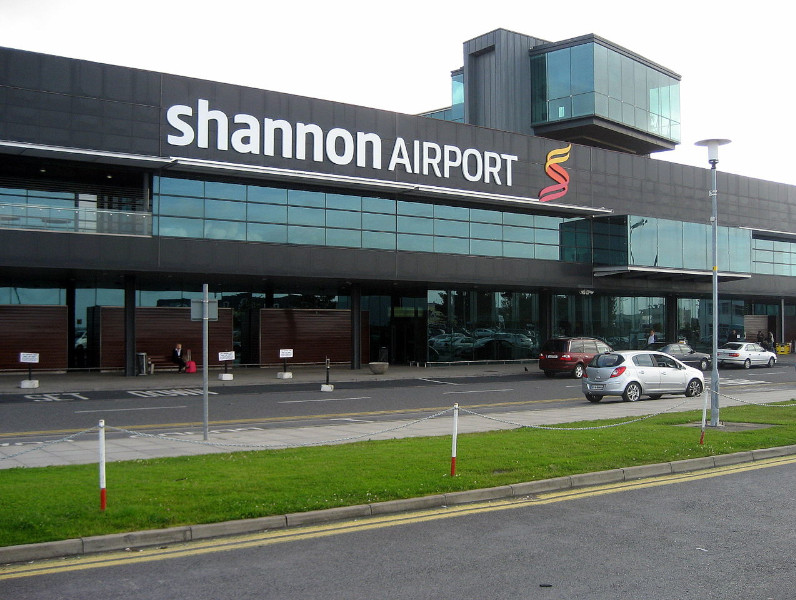 Press Conference - Buswell's Hotel Dublin, 11am Friday, March 15th, 11am
Public Meeting - Connolly Books, 43 Essex St E, Temple Bar, Friday March 15th, 7pm
Protest - Shannon Airport St Patrick's Day Sunday March 17th, 2pm
Why? Because up to one million [1,000,000] children have died due to US-led wars in the Middle East since 1991
---
Six US Veterans For Peace (VFP), including two Iraq combat veterans will be in Ireland from March 14th to the 20th. They will be speaking publicly about the proliferation of US wars and of the disrespect shown by the US military for Ireland's traditional neutrality.
The two recent combat veterans will tell their experience of having been transported with their weapons via Shannon Airport, in direct violation of Irish neutrality. Members of this group have also been to the West Bank in Palestine, standing with Palestinian nonviolent resistance.
Mike Hanes and Enya Anderson, former Sergeants, USMC: "This delegation to Ireland will stand and speak against the U.S. military's disrespect and abuse of Irish neutrality by sending millions of troops with weapons through Shannon airport. We can speak from personal experience of passing through Shannon with our weapons on the way to US wars. Veterans For Peace USA, an organization of former military members, including combat veterans like ourselves, is joining with like-minded peace activists around the world to protest non-violently against US militarism, resource wars and imperialistic policies that have led to the overthrow of several sovereign governments, the deaths of millions of people, and huge destruction and environmental damage." 
Hanes and Anderson both had about 9 years service and were together in an elite USMC Force Recon company in Iraq. Enya Anderson has a Master's in Aeronautical Science and was a member of the VFP Peace Team delegation to Okinawa in 2017. Mike Hanes has been on VFP Peace Team delegations to Palestine, South Korea, Okinawa and Japan. He recently completed a solo hiking journey of 2200 miles along the mountainous Appalachian Trail. 
Ray McGovern was an Army intelligence officer in the early sixties. He was a CIA intelligence analyst for 27 years. In the 1980s he chaired National Intelligence Estimates and prepared the President's Daily Brief. Ray is a member of the VFP Advisory Board and a founder of Veteran Intelligence Professionals for Sanity. In 2017, Ray was with the VFP peace delegation in Palestine. He has said about his activism, "The role of our 'allies,' in my view, is a scandal. 53 other countries [including Ireland] cooperated in the kidnapping, 'extraordinary rendition,' of suspected terrorists to black sites. And the passiveness, you know, the apathy - well that's not responsible citizenship. When I'm asked why I'm an activist, I say, well that's the price I pay for living on this planet, okay?"
Mike Ferner is a peace activist and journalist from Ohio and has served on the Toledo City Council. He has travelled to Iraq twice, once just before the US invasion in March 2003 and once again a year later. He is author of In The Red Zone, an account of his time in Iraq. He was a Navy corpsman during the Viet Nam War and is a former president of Veterans For Peace.
Major Ken Mayers served 12 years in the USMC. He is a former National Board member of Veterans For Peace and a member of the veterans peace team delegations to Palestine, Okinawa, Jeju Island, South Korea and Standing Rock.
Tarak Kauff was a paratrooper in the US Army during the early sixties. He was a member of the VFP National Board of Directors for six years. He has organized veterans delegations to Palestine, Okinawa, South Korea and Standing Rock. He is currently the managing editor of Peace In Our Times, VFP's quarterly 24-page newspaper.
The veterans are accompanied by Ellen Davidson and Chris Smiley.
Ellen is an associate member of VFP and co-editor of Peace In Our Times. A long-time highly respected political activist, journalist and photographer, she was awarded VFP's Service and Stewardship award in 2016. Ellen has co-organized and been with VFP peace delegations to Standing Rock, Palestine, Okinawa and Jeju Island, South Korea.
Chris, an acclaimed documentary filmmaker, has travelled with and filmed the Veterans Peace Team in Palestine.
The USA has over 800 military bases in 80 foreign countries. Veterans For Peace calls for the closure of these bases, and the ending of US military use of Shannon airport. 
Contact details
Ellen Davidson, Veterans For Peace USA, Phone +353863539911
Edward Horgan, Veterans For Peace Ireland, Phone +353858519623 Email edwardhorgan45@gmail.com