US Military Use of Shannon Airport Continues
Posted on:

24 January 2022

By:

shannonwatch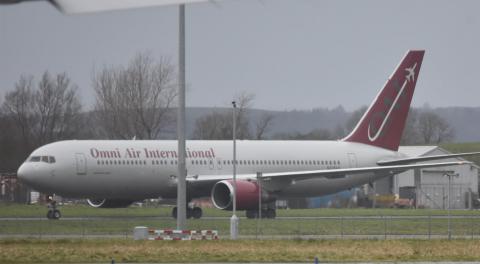 Body:
As the risk of war in Ukraine increases, we need to look at Ireland's role in the build-up of military power there. 
NATO led by the US and UK are transporting large quantities of weapons and munitions to Ukraine, and are providing training to the Ukrainian army. It looks like we in Ireland may have been actively cooperating with these dangerous activities.
On Jan 16th, a US Air Force C- 40C (02-0203) refueled at Shannon on its way to Kiev in Ukraine. It returned two days later, Jan 18th, on its way back to Camp Springs in Maryland.
Sun Country aircraft number N820SY also refueled at Shannon on Tuesday Jan 18th, coming from Marine Corps station in Cherry Point, North Carolina. It was on its way to Bardufoss air base in Norway.
An Omni Air contracted to the US military arrived from Norfolk Naval Station via Bangor Maine. The plane registration was N378AX.
Omni Air N225AX also took off on the morning of Jan 18th at about 8am. It too was heading for Bardufoss air base in Norway.
And there was yet another US military carrier at Shannon on the same day. Omni Air N486AX left al 11.43am on its way to Poznan in Poland. From there it went to Sofia in Bulgaria, then Kuwait. It came back to Sofia, then Shannon the next day.
Later in the evening is Omni Air N468AX coming from Biggs air base in El Paso via Baltimore Washington arrived at Shannon. It too was a U.S. Transportation Command flight (CMB547). It went on to Nuremburg at 1.46am, then Sofia, then the Al Dhafra Air Base in the UAE, then Kuwait, Sofia and back to Shannon.
That makes 6 aircraft associated with the US military at Shannon Airport in one day.