Troop Carrier Flight Logs for May (so far)
Posted on:

10 May 2020

By:

shannonwatch
Body:
Since the start of May we've recorded 11 US troop flights through Shannon Airport. The number may be even higher, but by logging only the flights with the designated CMB call sign we've compiled the list below.
The Camber call sign (ICAO three letter prefix, CMB) has been used since 2010 by civil aircraft on US military transportation flights.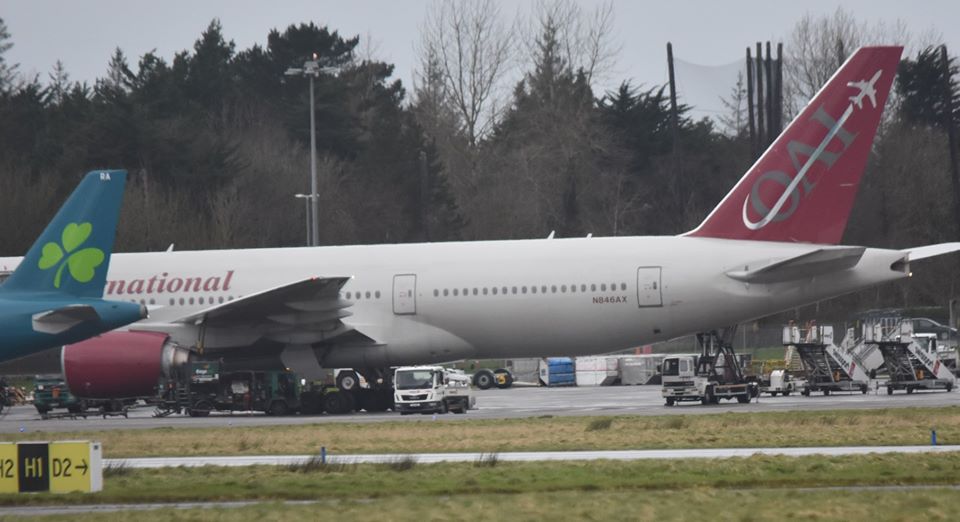 Photograph of one of the Omni Air planes that landed in May, taken at Shannon in February 2020
All the military contracted flights we've logged through Shannon over the last 10 days have been operated by Omni Air International. According to their own website they transport US and foreign military troops, military family members, government employees and natural and humanitarian disaster relief "to the destinations they are needed most, at the times they are needed most", and they do it "with unsurpassed responsiveness".
A feature of their US military transportation flights through Shannon is that they typically only use the Camber call sign (which identifies them as US military transportation flights) when landing or departing, but not both. We assume this is linked to the direction they are travelling.
The flights logged in May so far are as follows:
May 1st N819AX landed at 13:41 with call sign CMB557. It departed at 16:00 with call sign OAE557.
May 2nd N828AX departed at 11:31 with call sign CMB585 (it had landed at 09:19 as OAE585)
May 4th N819AX departed at 08:42 with call sign CMB503 (it had landed at 06:55 with call sign OAE503). It landed again on May 5th with the same call sign CMB503 (and took of at 10:04 as OAE503
May 5th N828AX departed at 12:26 with call sign CMB517 (it had landed at 10:20 as OAE517)
May 6th N819AX departed at 12:37 with call sign CMB545 (it landed as OAE545 at 10:31). It landed again on May 7th at 11:36  with the CMB545 call sign.
May 7th an Omni Air flight with call CMB559 departed at 10:37 (it had landed at 08:25 with call sign OAE559). The same plane landed again on May 8th at 18:46 with the CMB559 call sign.
May 8th N225AX departed at 11:22 with call sign CMB575 (it had landed at 08:10 with call sign OAE575)
May 8th N342AX departed at 07:55 with the call sign CMB549 (it had landed at 0521 at OAE549). It arrived back the following day (May 9th) at 17:24 with the same CMB549 call sign (and took off as OAE549 at 19:25).
May 10th N846AX landed at 5:31 with call sign CMB573. It took off again at 07:39 with call sign OAE573.
As this record shows, the US military use of Shannon is continuing, despite Covid-19 restrictions and claims that US military troop movements have been reduced. We need answers from our government as to why this is allowed to happen.