Time to Stop Servicing Warplanes at Shannon
Posted on:

5 August 2018

By:

shannonwatch
Body:
At Shannon Airport at 3.30 pm this evening a US warplane was being refuelled and seemed to be getting some repairs done. All part of Ireland's participation in totally unjustified wars in the Middle East.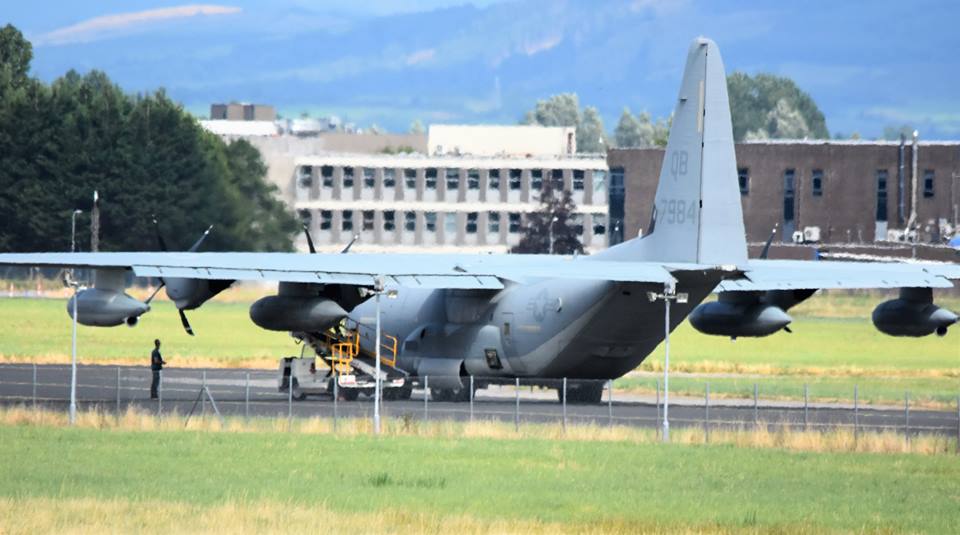 Thirty four years ago in 1984, Dunnes Stores workers began a strike that would last almost three years. Shop steward Karen Gearon gave a union instruction to her colleagues not to handle any South African goods, in protest against the apartheid regime in the country at the time. When 21-year-old cashier Mary Manning refused to put some fruit through the till, she was suspended and nine of her colleagues walked out the door with her.
Why has there been no similar protest or refusal to service and refuel US warplanes at Shannon airport by workers at Shannon airport over the past 17 years? 
The brave Dunnes Stores workers sacrificed their jobs in order to do the right think. We urgently need similar brave workers at Shannon today.
If the unions at Shannon Airport were to give instructions to workers not to refuel or service or assist US military/military contracted/CIA aircraft in any way that would certainly help to bring their unjustified use of the airport to an end. Of course the US military or CIA routinely don't even allow Shannon workers on their planes, but they still need support from airport and service company staff, particularly when it comes to refuelling. 
The warplane being refueled and serviced today was a US Marine Corps Hercules KC130 mid air refuelling tanker, numbers QB 7984. A written request was submitted to Gardaí at Shannon to search and investigate the plane. It would have been very easy for them to do so, because the warplane was being guarded by a Garda Patrol and an Irish Defence Forces Patrol. Also the doors of the aircraft were open, so all they had to do was walk a few metres and look into the warplane and see if it was carrying arms or munitions, or extra aviation fuel to refuel other US military war planes.
Also at Shannon today an Omni Air plane on contract to the US military was refuelled this morning and took off at about 07.15 am heading for Kuwait, probably full of US troops. As we write this, it is on its way back towards Shannon posibly with another load of US troops on their way back to the USA.