Report on Latest Instalment of the Prosecution of Shannon Peace Activists
Posted on:

19 December 2017

By:

shannonwatch
Body:
This court report summary from last Wednesday 13 December was compiled by an observer in Ennis Court. The harassment of whistle-blowing peace activists goes on.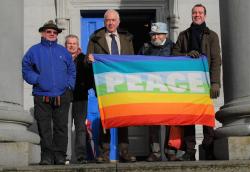 By way of background, this court case (or cases?) arises due to an incident on 25 April last when Dan Dowling and Ed Horgan went to Shannon airport to search and investigate two US Navy aircraft that were parked overnight at Shannon while on their way from the United States to the Middle East as part of the US wars of aggression. Wednesday's hearing was just a "for mention" hearing, sort of, "nothing to see here, move along there now".
Dan's case came up first on the alphabetical order list. He requested that both cases be heard together as there were similar applications to be made. His request was just brushed aside by the Judge Durcan. Dan was representing himself as his legal team was not available on the day. Dan attempted to apply for the case to be struck out, or a date for trial be set, but again the judge ignored this request and agreed with the prosecution request that this case be adjourned until 9 May 2018.
In between the Dan's and Ed's cases being called, there were some serious cases, including one of alleged murder, in which the defendant was remanded in custody and the case referred on to the Central Criminal Court in Dublin. There was also a case of alleged rape, which was adjourned until a date in January. The court was told that the defendant was remanded on continuing bail, on his own bond, but unlike the peace activist bail, he was not subjected to any restrictions on his movements, and was not banned from Co Clare, or from anywhere else.
When Ed's case was called, Judge Durcan asked him, "how are you today Mr Horgan?" Ed responded that he was not well, due to the way this case was going. The judge said that he was not good himself, he had a touch of the flu.
Inspector Kennedy told the court that this was a summary matter and that there was an indictable matter before the circuit court. (this indictable matter was alleged writing of graffiti on a US warplane DANGER DANGER DO NOT FLY). He said that he'd like to "PARK THIS MATTER" and that he wanted to adjourn this case until the 9th of May.
Ed started out by referring to Dan Dowling's session a few minutes before. He wanted to speak about the possibility that the rejection of Dan's application, to hear both defendants at the same time so that they could make similar applications to either strike the matter or give a hearing date for it, had prejudiced against the possibility that Ed's application might be granted. Judge Durcan was having none of it. He told Ed to refrain from referring to other cases before the court. Despite the unassailable fact that both Ed and Dan are co-defendants.
Ed told the judge that this was the 8th time that he'd been in court since his arrest and he listed the dates as follows: 26 April 2017 District Court, 7 June 2017 District Court, 18 July 2017 District Court, 13 Sept 2017 Circuit Court, 25 Sept 2017 Circuit Court, 31 Oct 2017 Circuit Court, 22 Nov 2017 Circuit Court, 13 Dec 2017 District Court, and due again on 18 Dec 2017 Circuit Court. He then referred to a letter he received from Inspector Kennedy last August. In it, Inspector Kennedy informed Ed that another charge, a charge of trespass, was being added to the criminal damage charge already before the court. It went on to say that the DPP would probably, at some point, add this particular charge to the case before the circuit court, but for the time being, it was the inspector's intention to park it in the district court. Ed told Judge Durcan that in his view this was a clear attempt by the state to practice double jeopardy. He went on to say that he was not happy with this and that he was asking the Court to either throw the matter out or fix a hearing date. He said that this, the extra and wasteful court appearances he had to make, combined with being prevented from visiting Shannon airport due to bail conditions, was an attempt to make the case go on as long as possible and amounted to an attack against him by the State that had nothing whatsoever to do with holding him to account. Ed went on to point out that Judge Durcan had refused jurisdiction for the criminal damage charge, despite the fact that a Detective Sergeant had given sworn evidence in court that the amount of damage due to the graffiti on the warplane was of "no monitory value". Judge Durcan interrupted at this point to inform Ed that his reasoning wasn't up for discussion and that he'd not be examining why he sent the charge forward to the circuit court under indictment, he said that it was purely a matter for the Court and its discretion. Ed briefly returned to his earlier argument before being interrupted once more. The judge told Ed that there were two instances where people repeated themselves. In the first, the person making the argument, didn't understand the point he was making, in this instance, he said, that he'd taken abundant notes of Ed's points and in the second case, the person believed that the judge didn't understand what was being said. Ed said that neither was correct in this case. The judge said he was glad to hear it. and then went on to remand the case until May, informing Ed that the trespass charge was "essentially" before the circuit court and that he could appreciate the frustration Ed felt at having been to court on so many occasions. He told Ed that because the case was essentially before the circuit court that the option was open to him to make applications in the circuit court regarding the frustration he felt and that delays that he perceived. He also told Ed that it was also the place to make applications regarding bail conditions. He said that if he wanted to make an application in his court regarding the bail conditions surrounding the trespass charge, that he have to give Inspector Kennedy advance notice before doing so (despite the fact that when Ed first wrote to the inspector to give him said notice, he'd included the fact that it was his intention to raise the matter each and every sitting until he was satisfied he'd achieved enough).
At this point Ed, once again raised his point about double jeopardy and the other machinations of the Gardaí and the State, including the Director of Public Prosecution. He said that there could be a perception they were making the court connive in their possible wrong doings. Judge Durcan got upset at this point and said that Ed was inferring that he the judge was involved in a connivance. Ed told him that this was his impression. The judge demanded that Ed withdraw it. Ed said that he was currently answering to two courts in a single case. The judge once again interrupted and demanded a withdrawal, saying that Ed had made a public allegation accusing him of a connivance in a criminal matter with the gardaí. Ed complied and withdrew the remark after saying that that was not what he was saying.
The judge thanked Ed, saying: "That's the end of that."
Judge Durcan reminded Ed that his next return date is the 9th of May and once again, that it was open to him to make applications in the circuit court.
Despite the judge having allegedly taken abundant notes of Ed's argument and Ed mentioning it more than twice, the judge had nothing whatsoever to say about Ed's allegation of double jeopardy.
Dan and Ed are due back in Ennis Court again on Monday 18th December.
Perhaps there will be a further adjournment hearing again on 25th December, if there is room in the Ennis Court Inn.