Remembering Friends and War Victims at Shannon Today
Posted on:

12 August 2018

By:

shannonwatch
Body:
At our Shannonwatch peace vigil today we displayed a beautiful banner produced by IPSC with artwork in memory of some of the Palestinian children who have been killed in Gaza. It was an appropriate banner, given all the children killed by wars facilitated by Shannon Airport.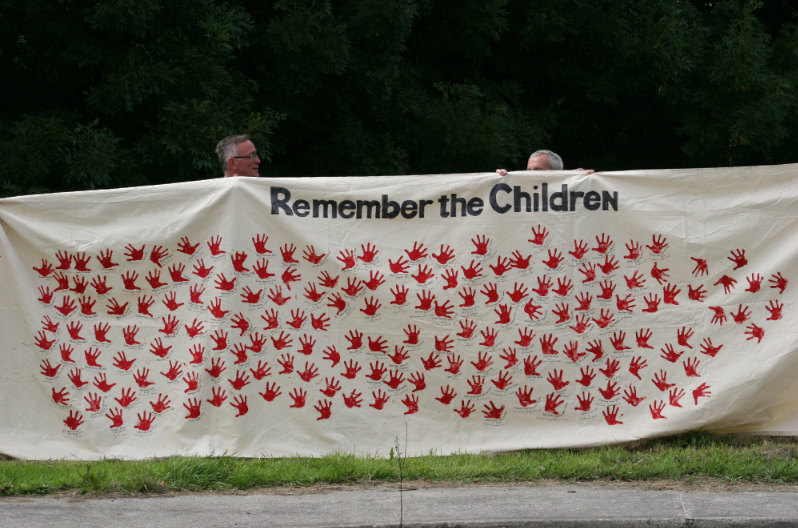 We also held a special ceremony to remember the 12 peace activists who have passed away peacefully since we began our peace protests at Shannon in 2001. names are: Liz Tully, Robin Hennessy, Emma O'Carroll, Eamonn Murphy, Bob Dickerdike, Jarleth McGrath, George Gooberman, Niall Harnett, John Arden, Esta Carter, Anne Clinton, and Seamus Rattigan. May they all rest in peace.
A peace park is in the process of being established at Shannon at Drumgeely. Last year we planted 12 apple trees there in memory of the 12 peace activists who have passed away in recent years but also in memory of all the innocent people who have died in wars in the Middle East. These wars have been aided and abetted by Shannon Airport and by all Irish governments since 2001.
Today we attached the names of the peace activists to each of the apple trees. The fruits of their peace activism are represented by the apples on these trees. It was nice to see the children who were attending the peace vigil eating some of these apples. 
The peaceful deaths of these adults from natural causes is in sad contrast with the violent deaths of up to one million children across the Middle East since the First Gulf War in 1991 due to wars that were unjust and unjustified.
We also commemorated some of the children who were so brutally killed last Friday when a school bus was bombed by the Saudi Arabian led coalition that has been waging war in Yemen. The Yemeni children we commemorated include some of those killed last Friday and others killed in previous bombings. The names of all these children were written on white ribbons in English and in Arabic, and these ribbons were then attached to the security barriers the Gardai (police) erected to block our access to the airport proper.
Yemeni Children Killed and Remembered at Shannon
Ali Zaid Hussein Tayeb 8 علي زيد حسين طيب
Zakaria Abdel Wahab Fay 9 زكريا عبد الوهاب فاي
Yousef Hassan Al - Dhib 9 يوسف حسن الذيب
Ahmed Zeid Hussein Tayeb 11 احمد زيد حسين طيب
Hamad Abdul Salam Abdul Shraim 11 حمد عبدالسالم عبداهلل شريم
Yahya Mahdi Ezzedine Horeh 12 يحيى مهدي عزالدين حوريه
Hameed Meid Aida Hadi 12 حميد ميد عيظة هادي
Turki Mhad Hassan Abadi 13 تركي مهد حسن العبادي
Yousef Hussein Hussein Tayeb 15 يوسف حسين حسين طي
Yasser Nasser Al-Wasabi 16 ياسر ناصر احمد الوصابي 
Osama Zaid on Alhamran اسامه زيد على الحمران
Yonis Abdulaziz Al-Hadawi يونس عبدالعزيز الهدوي
Glory Yahya Yahya Faya مجد يحيى يحيى فايع
Yousef Saleh Abdullah Al - Aqili يوسف صالح عبداهلل العقيلي
Yousef Abdulaziz Al - Hadawi يوسف عبدالعزيز الهدوي
Ali Abdul Rahim Hath علي عبدالرحيم هاث
Meed Hassan Abadi عقاب ميد حسن العبادي
Dirham Ali Mallo درهم علي ملو
Abdul Malik Abdulrahman Al-Deeb عبدالملك عبدالرحمن الذيب
Yousef Abdullh Al - Aqab يوسف ه عبداهلل العق
Abdellah Islam Tarash عبداهلل اسالم طارش
Abdulrahman al-Dhib مهد عبدالرحمن الذيب
Abdul Hussain Faisal Al Haj عبداهلل حسين فيصل الحاج
Ahmed Za'eid Ta'Eib 10 Aug 18 
Ali Za'eid Ta'Eib 10 Aug 18
This rememberance is also part of a separate project supported by Shannonwatch called Naming the Children.  
While our vigil was taking place an Omni Air International aircraft on contract to the US military was being refueled at Shannon Airport, with a Garda car in close attention, presumably providing security, paid for by the Irish state, for armed US troops transiting to or from Middle Eastern war zones.
This plane was refueled at Shannon on Saturday (11th August) having arrived from Biggs Air Force base in the US, and flew on to Kuwait. It returned to Shannon again for refueling today (12th August) and later took off on its way back to Biggs Air Force Base in California.