Permits for 236 US Military Aircraft to Land at Shannon in first 10 Months of 2020
Posted on:

13 December 2020

By:

shannonwatch
Body:
Between Jan 1st and Oct 31st this year, permits were granted for an 236 US military aircraft to land at Shannon Airport. Eleven of the flights were subsequently cancelled according to the Department of Foreign Affairs. 
In the same time period, permits were granted for 38 military or state aircraft from 10 other countries. Twelve of these were French aircraft, 10 were Belgian, and 6 were from the Netherlands.All are members of NATO, and their presence at Shannon further underlines the involvement of Ireland in military alliances.
The full breakdown of the permits issued is as follows.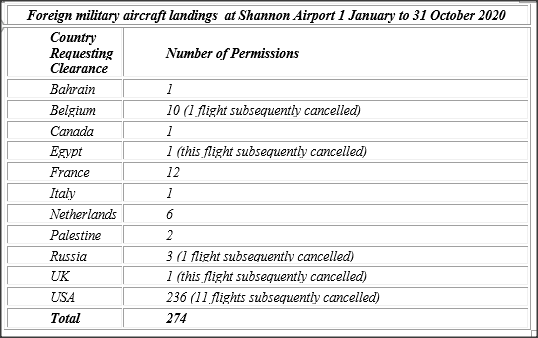 Over the same 10 months, there were 399 additional overflights by US military aircraft. There were 178 overflights by military aircraft from other countries. The highest numbers, as shown in the table below were from Egypt, France, Germany, Hungary, Italy and Qatar.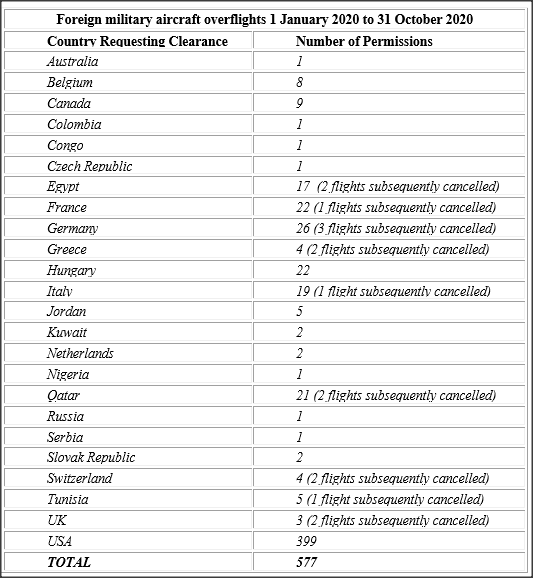 Despite this, the Minister for Foreign Affairs had the audacity to say the government has a policy of military neutrality. In answer to a parliamentary question from Catherine Connolly TD he also referred to "our international activism on issues such as disarmament, international crisis management and peacekeeping" and claimed that this has helped us "to speak with a distinctive and independent voice on many of the key challenges facing the world in relation to the maintenance of international peace and security".
There is nothing independent or peaceful about allowing hundreds of US military planes to land at Shannon. 
In an attempt to justify all this, the Minister Simon Coveney talks about our relationship with the US which he desctibes as "strong and deep". It is the government's intention, he says, "to work with the new [US} administration on strengthening that relationship through building on those longstanding and close political, diplomatic and economic ties".
Or to put it another way, Simon Coveney and the rest of the Fine Gael, Fianna Fail and Green Party government have no intention of stopping their complicity in the endless warmongering of the US. These parties are fully committed to supporting US imperialist efforts to dominate the world by virtue of its overwhelming military power.