Kathy Kelly Letter of Support for Peace Activists Ken and Tarak
Posted on:

13 May 2019

By:

shannonwatch
Body:
US Veterans and peace activists Ken Mayers and Tarak Kauff who entered Shannon Airport on March 17th with the intention of investigating an Omni Air International plane on contract to the U.S. military are still being denied permission by the Irish state to travel home to the US to their families. 
For information on their ongoing case see http://www.stopthesewars.org/kenandtarak/.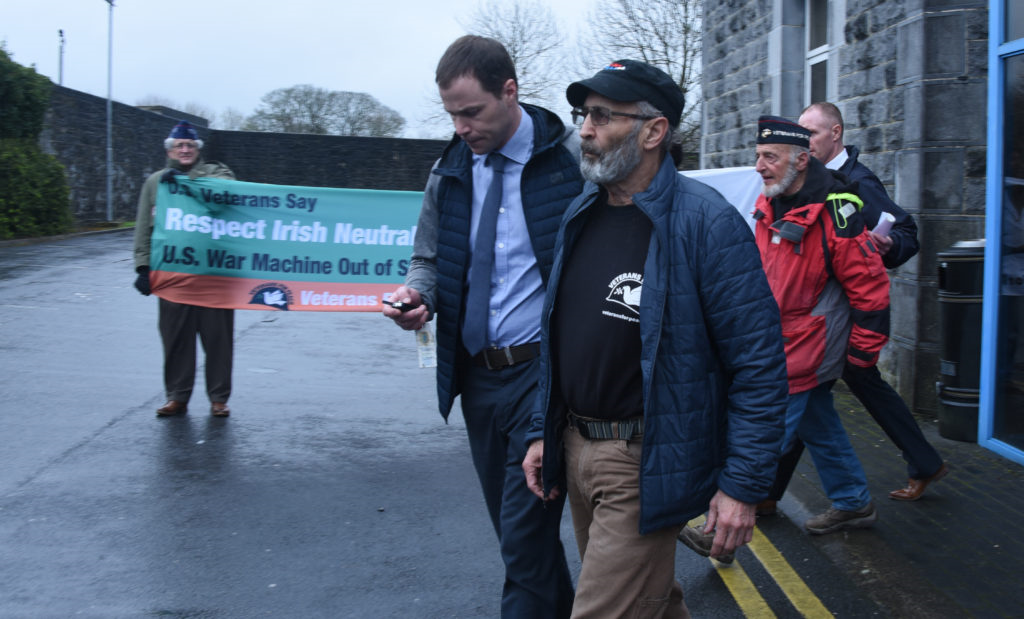 Meanwhile here is a powerful and heart-felt letter by peace activist Kathy Kelly. In response to the letter, Tarak wrote: "Feel free to be inspired to write your own to Irish Consulates and use some of her excellent points. I believe the majority of Irish citizens are not in favor of the US military's use of Shannon Airport. This is a time to keep the pressure on, not just for Ken and I, we're only instruments to draw attention to this issue, but if the Irish government ever has the courage to stand up to US militarism and wars - and that will only come about from public pressure - it will be a great victory for the world peace movement. It will set the example of a country that believes in peace standing up to the most powerful anti-peace government (the US government) in the world. That's an achievable goal worth (nonviolently) fighting for."
We agree with Tarak, and we encourage everyone to get in touch with the Irish and the US authorities to get them to end the US military use of Shannon Airport.
Brian O'Brien
Consul General of Ireland
1 East Wacker Drive
Suite 1820
Chicago, IL 60601
April 10, 2019
Dear Consul General Brian O'Brien,
Voices for Creative Nonviolence Co-coordinators in Chicago wish to draw your attention to the March 17, 2019 arrest and imprisonment of two U.S. Veterans for Peace members, Tarak Kauff and Kenneth Mayers.
On March 29th, they were released from the Limerick prison on bail, but they are not allowed to leave Ireland until their trial which could be months, or possibly years from now. 
They were in Ireland at the invitation of the Ireland chapter of Veterans For Peace.
They, as well as members of the peace community of Ireland, are deeply concerned about the use of Shannon International Airport as a "pitstop" for the U.S. military. In breach of Ireland's longstanding neutrality, the U.S. military lands combat troops in contract aircraft and U.S. military aircraft at Shannon International airport as a refueling stop on the way to conflict areas in Afghanistan, Iraq and Syria.
To bring attention to this breach of neutrality, Mayers and Kauff entered the airfield on March 17th. They intended to inspect and investigate an OMNI Air International plane on contract to the U.S. military. The plane, tail number N351AX, arrived at Shannon Airport about 8.30 a.m. from Eielson US Air Force base in Faribanks, Alaska, believed to be on its way to the Middle East with up to 300 armed US troops. 
Rather than charging these two peace activists with trespass and criminal damage, the Government of Ireland should thank them for reminding it of the obligations a country undertakes when it declares itself a neutral power. The Hague Convention V Respecting the Rights and Duties of Neutral Powers states:
"A neutral Power which receives on its territory troops belonging to the belligerent armies shall intern them, as far as possible, at a distance from the theater of war. (Art. 11)"
By ignoring this duty and instead allowing US troops and weapons to pass through Shannon Airport on their way to and from America's illegal wars of choice in the Middle East, does not the Irish Government violate its principles of neutrality and render itself complicit in America's breaches of international law?
We urge you, as Consul General, to advise your Government to drop all charges against Tarak Kauff and Kenneth Mayers. And we remain optimistic that your Government will soon work to revive Ireland's proud legacy of neutrality.
Sincerely,
Kathy Kelly
on behalf of Voices for Creative Nonviolence Co-Coordinators in Chicago