Join the Raging Grannies at the Department of Transport
Posted on:

3 July 2021

By:

shannonwatch
Body:
Our friends the Raging Grannies invite everyone who feels as they do (rage, humiliation and emotional abuse) to confront Eamon Ryan, Minister for Transport, Tourism and Sport, who is allowing young American soldiers to travel through Shannon Airport to fight in wars they know nothing about.
On Wednesday the 7th of July from 12 noon, they will be at the Department of Transport, Tourism and Sport, Leeson Lane, Dublin 2, DO2 TR60 to do that. Join them if you can for as little or as long as you want. 
Most of the young soldiers passing through Shannon come from the most disadvantaged sections of American society and they return home mentality and physically traumatised. They are used as fodder and are victims of the American war machine as are the countries they invade. The Raging Grannies feel rage, shame and abuse as our rights are also being ignored and therefore we are all part of this mass killing.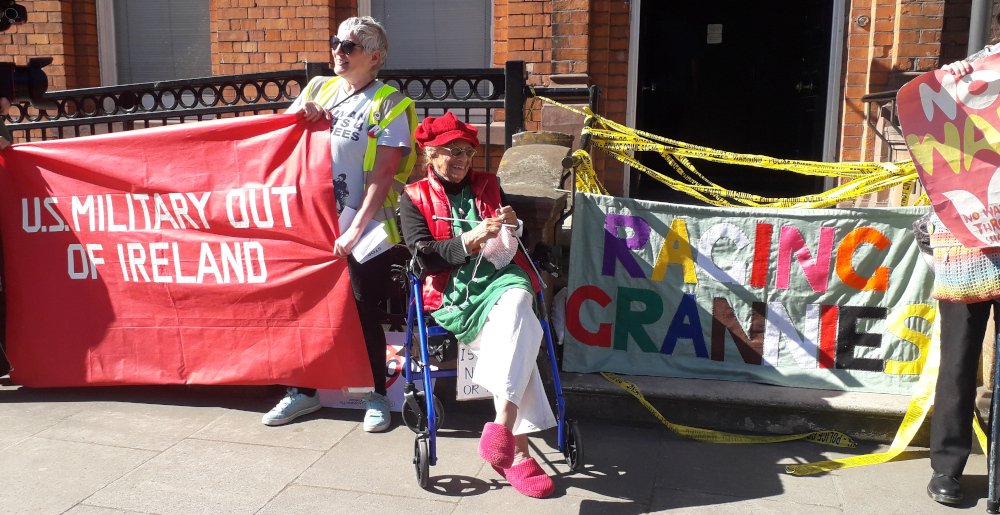 The Raging Grannies at their 2018 protest outside the Department of Foreign Affairs in Dublin
See press release issues by Raging Grannies here.