Posted on:

19 December 2017

By:

shannonwatch
This court report summary from last Wednesday 13 December was compiled by an observer in Ennis Court. The harassment of whistle-blowing peace activists goes on.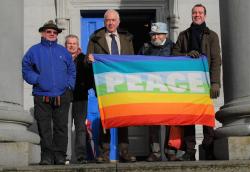 By way of background, this court case (or cases?) arises due to an incident on 25 April last when Dan Dowling and Ed Horgan went to Shannon airport to search and investigate two US Navy aircraft that were parked overnight at Shannon while on their way from the United States to the Middle East as part of the US wars of aggression. Wednesday's hearing was just a "for mention" hearing, sort of, "nothing to see here, move along there now".
Dan's case came up first on the alphabetical order list. He requested that both cases be heard together as there were similar applications to be made. His request was just brushed aside by the Judge Durcan. Dan was representing himself as his legal team was not available on the day. Dan attempted to apply for the case to be struck out, or a date for trial be set, but again the judge ignored this request and agreed with the prosecution request that this case be adjourned until 9 May 2018.