US Troop Planes Recorded in Last Few Days
Posted on:

7 April 2023

By:

shannonwatch
Body: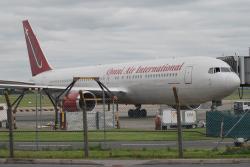 Over Wednesday and Thursday, we recorded nine Omni Air Internations aircraft transporting US troops and weapons through Shannon Airport or Irish air space.
These included
N207AX which landed at Shannon and travelled on to Bulgaria and Bahrain,
N477AX which arrived at Shannon about 06.10 on Thursday morning, coming from Jordan and Kuwait and then flew on to US Marine Corps Air Station Cherry Point in North Carolina.
N378AX, arrived at Shannon coming from the Middle East via Crete and Naples and then flew on to Norfolk naval air Station in Virginia
In addition six other OMNI aircraft on contract to the US military flew through Irish airspace on their way to the Middle East and to Eastern Europe, including Omni aircraft N205AX, N342AX, N351AX, N423AX, N441AX and N819AX.
The government of Fianna Fail, Greens and Fine Gael have clearly abandoned all respect for our neutrality by allowing this. Minister Eamon Ryan approves the carrying of weapons on these planes, while claiming we are militarily neutral.
We cannot be militarily neutral while assisting the military operations of another State.