Military Use Of Shannon Airport
Shannon Airport has been used by the US military on their way to/from wars in Iraq, Afghanistan and elsewhere for over a decade and a half. It has also operated as a stopover point for CIA rendition planes. All this came about without the permission of the Irish people. As a result we are all complicit in gross violations of human rights, the killing of innocent civilians, and unending cycles of suffering for millions of people.
Since 2002 close to 3 million US troops have gone through Shannon Airport. The numbers were at their highest in 2005 when Shannon facilitated 341,000 soldiers on their way to war. The figures for 2012 were less than half that number, and the numbers for 2016 were less than half that again. However this decrease does not in any way diminish Ireland's complicity in war.
---
US Troops Passing Through Shannon Since 2002
Most of the US troops passing through Shannon are on board flights that are classified as "civilian". These are governed by the 1944 Convention on International Civil Aviation (known as the Chicago Convention). Most but not all of the troop carriers are operated by Omni Air International. The Irish government has acknowledged that these aircraft are permitted to carry weapons on board.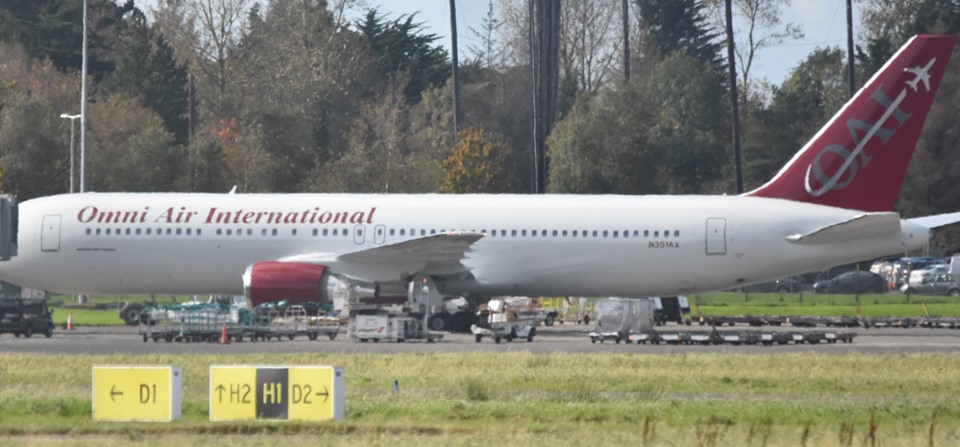 | | |
| --- | --- |
| YEAR | TOTAL |
| 2020 (up to end Oct) | 51.835 |
| 2019 | 86,653 |
| 2018 | 93,852 |
| 2017 | 60,968 |
| 2016 | 48,648 |
| 2015 | 63,549 |
| 2014 | 55,405 |
| 2013 | 69,840 |
| 2012 | 101,108 |
| 2011 | 250,000 |
| 2010 | 229,000 |
| 2009 | 265,000 |
| 2008 | 256,000 |
| 2007 | 263,000 |
| 2006 | 281,000 |
| 2005 | 341,000 |
| 2004 | 159,000 |
| 2003 | 122,000 |
| 2002 | 73,000 |
Permits Issued to Carry Munitions of War through Ireland or Irish Airspace
The Chicago Convention states that "no munitions of war may be carried in or above the territory of another State in aircraft engaged in international navigation, except by permission of such State". This only covers the so-called "civilian" aircraft like Omni Air International's that are carrying troops and cargo. In Ireland civilian flights carrying weapons must be given prior permission to overfly or land by the Minister for Transport. The vast majority of these requests are from aircraft chartered by the US military.
The number of requests made and permits granted to carry munitions are as follows:
Of the 1083 requests received in 2019, 454 were granted for aircraft landing at Shannon Airport (i.e. US troop carriers), 12 were granted for aircraft landing at other airports, 609 were granted for flights over (562) or outside (47) Irish sovereign territory. 3 permit requests were refused, and 5 were cancelled.
A report published by the Irish Times in June 2019 calculated that the US military accounted for at least 93% of the flights requesting permits to carry munitions that passed through Irish airports or airspace between 2014 and 2018 inclusive. These involved troops going to 39 different countries. Most of the troops were either returning to the US (385,353) from a variety of locations around the world or travelling to Germany (184,435) where the US has its military headquarters in Europe.
In that time period, a large number of US troops also travelled to Kuwait (133,762), Jordan (2,212), the UAE (2,786) and Bahrain (2,186). All these destinations are part of the US-backed and Saudi-led coalition involved in the war in Yemen. The US also flew 1,798 troops to its military base in Djibouti, which is separated from Yemen by the Red Sea and is seen as a significant location on the route to the Suez Canal.
---
US Military Flights Through Shannon
In addition to the US troop carrier flights, aircraft operated directly by the US Air Force and Navy also land at Shannon. Quite extraordinarily, the Irish government claims that these aircraft are all completely unarmed, carrying no arms, ammunition or explosives and are part of military exercises or operations. This is desipte the fact that in September 2013 a Hercules C-130 with a 30mm cannon mounted on the side was photographed at Shannon.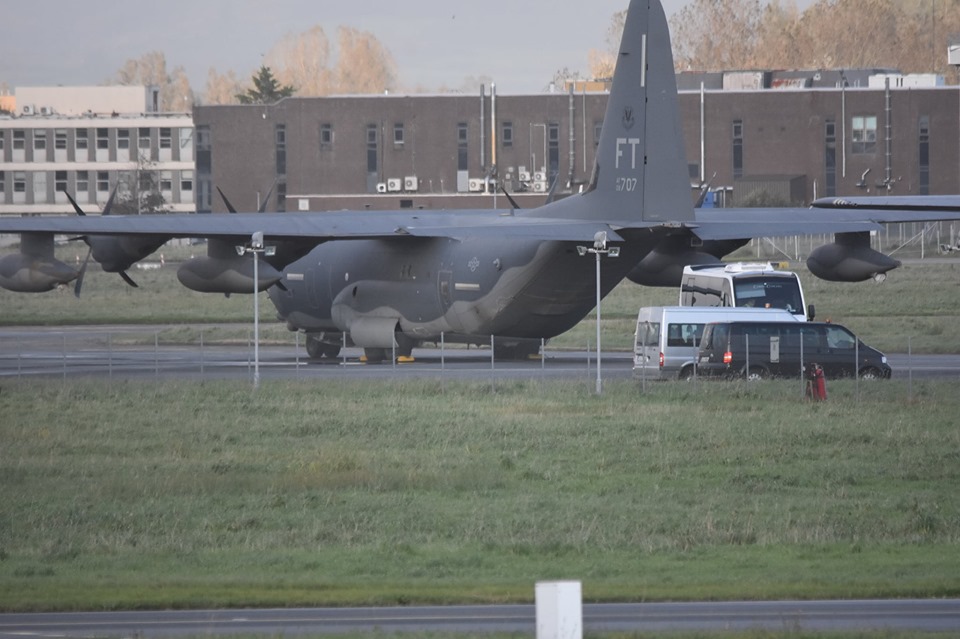 For a foreign military aircraft to land at an Irish airport or even to pass through Irish airspace, permission must be granted by the Minister for Foreign Affairs. In 2017 his department received 515 requests for landings by military aircraft at airports in Ireland. Of the 515 landing requests received, 1 was refused and 15 were cancelled. The vast majority of these (451) were for military aircraft landing at Shannon Airport. Of these 451 landings, 402 were US military aircraft.
A small number of permits were issued to military aircraft from Bahrain (1), Belgium (3), Canada (5), Egypt (3), France (17), Germany (3), Italy (5), Jordan (7), Palestine Authority (2), Switzerland (1), Ukraine (1), and UK (1).
Year
Permits granted for military aircraft to land at Shannon
2017
451
2016
 645

 (See Note 1)

2015
647
2014
741
2013
541
2012
666
Note 1: On 17th January 2016, in response to a parliamentary question from Clare Daly TD to the Minister for Foreign Affairs and Trade that asked the number of military aircraft that landed at Shannon Airport in 2016, the Minister said that his Department received 645 requests for landings by military aircraft at Shannon Airport. It is not clear if the Minister intentionally avoided saying that 645 planes landed, or if the number that were allowed to land was different to the number of requests.
A much larger number of military aircraft, mostly from the US, pass through Irish airspace. During 2017, there were 1,749 overflights of Irish airspace by military aircraft. Of these 1420 (81%) were US military planes.
In other words, almost we have had, on average, almost 4 US military aircraft pass through Irish airspace every day.
---
Recommended reading: The Militarisation of Ireland's Foreign and Defence Policy:
A Decade of Betrayal and the Challenge of Renewal (Afri, 2007)
---
Shannonwatch routinely logs military-related aircraft landing at Shannon. Not all landings have been recorded, but details of those that have can be made available on request. Contact us for more details.